Hoaxes Throughout History
David Emery
gave me a heads up about this soviet-style poster that has supposedly been sighted on the MARC trains that go between Baltimore and Washington DC. It urges passengers to: "Report any unusual activities or packages to the nearest conductor. WATCH, RIDE, AND REPORT."
The poster seems so Big-Brother-like that a lot of people suspect it must be a hoax. David Emery comments:
"the logo on the poster reads "MARC Marshals" which, as far as I can tell, don't exist. MARC trains are patrolled by MARC Police. Folks are speculating it's probably some sort of guerrilla art project."
The photo caught the attention of bloggers when it appeared on the
Articulatory Loop
blog. However, I think it appeared earlier on
MDRails
, which is a website of photos taken by Maryland train enthusiasts (although when I checked the
Wayback Machine
, I could see that the poster wasn't on there as of October 2004).
It actually wouldn't surprise me if the poster was real, but the only way to confirm this is if (1) other MARC riders report seeing this poster, and (2) MARC confirms that they put this poster up.
Yeah i saw one of those when i was in dc last week...
Posted by Jeremy on Wed Jun 08, 2005 at 07:52 PM
---
The use of "marshals", so similar to sky marshals but technically incorrect, tips it off as fake. Most people in the "Homeland" are too dense to cop to Soviet or Nazi style propaganda, anyway, and that includes our Fearless Leaders. Start worrying when statues of the sitting president start appearing everywhere (the renaming of National airport to Ronny Raygun airport approaches this).
Posted by Urusai in in the bathroom on Wed Jun 08, 2005 at 08:24 PM
---
I have seen several different websites that take old American WWII posters, Soviet and Nazi propaganda posters, and even old Pulp art, and change the wording to reflect current worries. (There was one, for instance, of a pissed-off Uncle Sam saying "Sorry, Bush, I don't work for torturers.")

This looks veeeeery similar. Heck, maybe somebody just went to a Kinko's and printed some of those redressed propaganda jpgs out large, and then went and stuck them on trains. Sounds like a fun way to spend a Saturday afternoon to me.
Posted by Barghest on Wed Jun 08, 2005 at 09:22 PM
---
Some of those old WWII propaganda posters are nice. Like the ones that say, "if you ride alone YOU RIDE WITH HITLER," or "if you talk too much, this man may die." If I were less lazy, I'd go out and buy some American propaganda posters, but as is I just have a communist international one.
Posted by Citizen Premier in spite of public outcry on Thu Jun 09, 2005 at 10:02 AM
---
I have nothing of real import to add, but Urusai's comment has to be one of the more stupider things I've read in a few days, and just needed to point a finger and laught at him/her/it for the serious lack of intellegence displayed.
Posted by Fred on Thu Jun 09, 2005 at 10:59 AM
---
This is absolutely, without a doubt, 100 percent real. Here is an e-mail I got from MARC customer service:
"Lately, the MTA has received a number of inquiries from MARC riders
concerning the "Watch, Ride & Report" poster which was commissioned by
CSX last year.
MARC contracts with CSX for its commuter rail service on the Brunswick
& Camden Lines. Both lines are owned and operated by CSX.
CSX has displayed the poster at rail facilities during the last year as
part of its campaign to promote passenger security awareness.
MARC did not post or distribute this poster. You may consider
contacting CSX to inquire if they have any spare posters available.
MTA Customer Communications
>>>
.(JavaScript must be enabled to view this email address)
6/9/2005 3:08:04 PM >>>
Category: Question Mode of Service: MARC Train Nature Of Question:
Advertising,
Comments: Is this real?
If it is, it's cool, and where can I get one?
CONTACT INFORMATION"
...
Posted by Sonobovich in I'm in ur base killing ur doods on Thu Jun 09, 2005 at 04:14 PM
---
Posted by syd on Fri Jun 10, 2005 at 12:28 AM
---
Transport for London ran a similar poster series a while back, touting the benefits of CCTV with arc deco posters and the phrase "SECURE beneath the WATCHFUL EYES".
In fact, here is one such poster: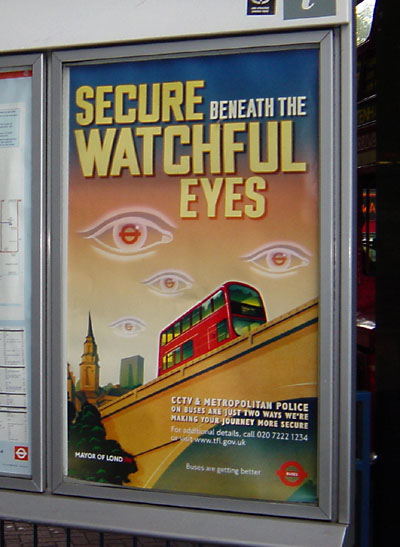 If you search Google images for the phrase you get lots. They were official posters and I think most people saw the joke; Transport for London is, like the TV Licencing people, widely seen as a kind of 1940s Brit-style Stalinist organisation. As a frequent bus and train user I often used to imagine a video monitor, somewhere, showing footage of myself being killed; and the operator is on his lunch break, or he is on paid leave, or the monitor is broken, or some quota has been filled, and so forth, and no-one will help. Watchful eyes, pah.
Posted by Ashley Pomeroy on Fri Jun 10, 2005 at 12:54 PM
---
Great, now we have the stupid comment marshal
Posted by sbnature on Sun Jun 12, 2005 at 04:51 PM
---
And in light of subsequent events on London's transpost system, 'secure beneath the watchful eyes' seems even more like a sad, sick joke.
Posted by Ashley Pomeroy on Mon Jul 11, 2005 at 08:32 PM
---
Commenting is no longer available in this channel entry.
All text Copyright © 2014 by Alex Boese, except where otherwise indicated. All rights reserved.