Hoaxes Throughout History
According to News.com.au
an email has been circulating around Australia claiming that the town of South Morang has built a replica of the house where the Simpsons live. On the cartoon, Homer and Marge live on 742 Evergreen Terrace, and South Morang does have an Evergreen Drive. Apparently many Simpsons' fans have been spotted driving aimlessly around South Morang searching for the house. Unfortunately for these fans, the replica house doesn't exist. The email is a hoax. But if you're a Simpsons fan the place you should actually visit is Portland, Oregon, the boyhood home of Matt Groening, whose streets apparently
inspired the names
of many Simpsons characters.
Posted by AqueousBoy on Mon Oct 04, 2004 at 03:40 PM
---
Well, to refine my statement a little further, perhaps I should have said 'did exist.' For all I know, the winners of the contest may have redone the house (as would most people, except the most diehard Simpsons fans).
Posted by AqueousBoy on Mon Oct 04, 2004 at 04:09 PM
---
I remember that contest! All my friends sent in application forms and I was very dissapointed when we didn't win - I'm a huge Simpsons fan, along with most of my family.
Posted by Ariel on Mon Oct 04, 2004 at 06:42 PM
---
Posted by john in NH on Mon Oct 04, 2004 at 08:59 PM
---
whoops i made that sound a little misleading... i used to live in henderson, nevada (outside of las vegas), NOT in the simpsons house.
Posted by john in NH on Mon Oct 04, 2004 at 08:59 PM
---
Yeah, I remember the Simpsons House Giveaway.. I think part of it was signing a deal that you would *not* remodel or redecorate it, tho....
Posted by Flynn Leek on Tue Oct 05, 2004 at 06:20 AM
---
Quote from the website linked below:

"The house was given away in a contest in 1997 and has since been repainted."
Posted by AqueousBoy on Tue Oct 05, 2004 at 03:29 PM
---
I was never allowed to watch this show when I was little...so when I got older, it didn't interest me. But I have a friend who has The Simpsons champagne flutes that he used for his toast at his wedding. His wife is really laid-back. Otherwise he would NEVER have been married!

I don't really think it's such a good show. Kind of degrading and offensive at the same time, no matter what you believe. I realize a lot of the stuff is a joke, but some things should just be left alone.
Posted by Maegan in Tampa, FL, USA on Wed Oct 06, 2004 at 02:56 PM
---
This isn't about the Simpsons, Meagan, it's about the Simpson's House.
Posted by john in NH on Wed Oct 06, 2004 at 05:26 PM
---
the whole deal with the simpsons house contest was that the winners had to remodel the house as part of the contest, not sure why but thats what i read about it
Posted by Dan Rice in Rochester, NY on Thu Sep 08, 2005 at 11:24 AM
---
actually, they didn't have to remodel or HAVE to keep it the same.

the outside was repainted to "fit in" better with the neighborhood. & i believe i read that the novelty items inside were sold.
Posted by nicole in los angeles on Thu Jan 19, 2006 at 02:52 AM
---
Why would you paint it and sell the stuff?
Blasphemy!
Posted by Daphne on Thu Feb 23, 2006 at 03:26 PM
---
Hello David Mirkin here and neither Matt or I have heard anything about this mysterious house, but I do know there is the FOX themepark in Australlia don't know where specifically, but know it's there. This house might be somewhere near there, there was also as you all should know a house we built in a city outside Las Vegas this was though unfortunatley torn down by the idiot owner he probably doesn't even know what the Sampsons... I mean Simpsons is.
So long
David Mirkin, Iconic Showrunner
Posted by The Mirkster in Burbank California on Sun Feb 17, 2008 at 12:20 AM
---
Unfortunately, I was in Vegas earlier today and visited the house over in Henderson... Sadly, the house has been painted over to match the boring desert looks of the rest of the neighborhood... the lawn is now non-existent.. in it's place is a horribly depressing rock lawn with tumble weed looking trees... nothing is bright or cartoony about it all anymore. The window blinds are dull pink/off-white, and the garage door is dented in and doesn't close all the way.. Also, there's a big Dish network satellite dish on the right side of the garage.

As a life-long fan of the simpsons, it's really irritating to look at the house in it's current condition because it's definitely not being appreciated at all. I would be more than proud to live there in it's actual Simpson condition, but apparently, the owner doesn't give a crap. I wish a real fan could buy it and actually treat it the way it deserves to be treated.

I took photos and will post them later.
Posted by Phil in Los Angeles on Tue Dec 22, 2009 at 04:05 AM
---
Okay, so here are links to the photos I took earlier today when I was up in Nevada... like I said, quite sad: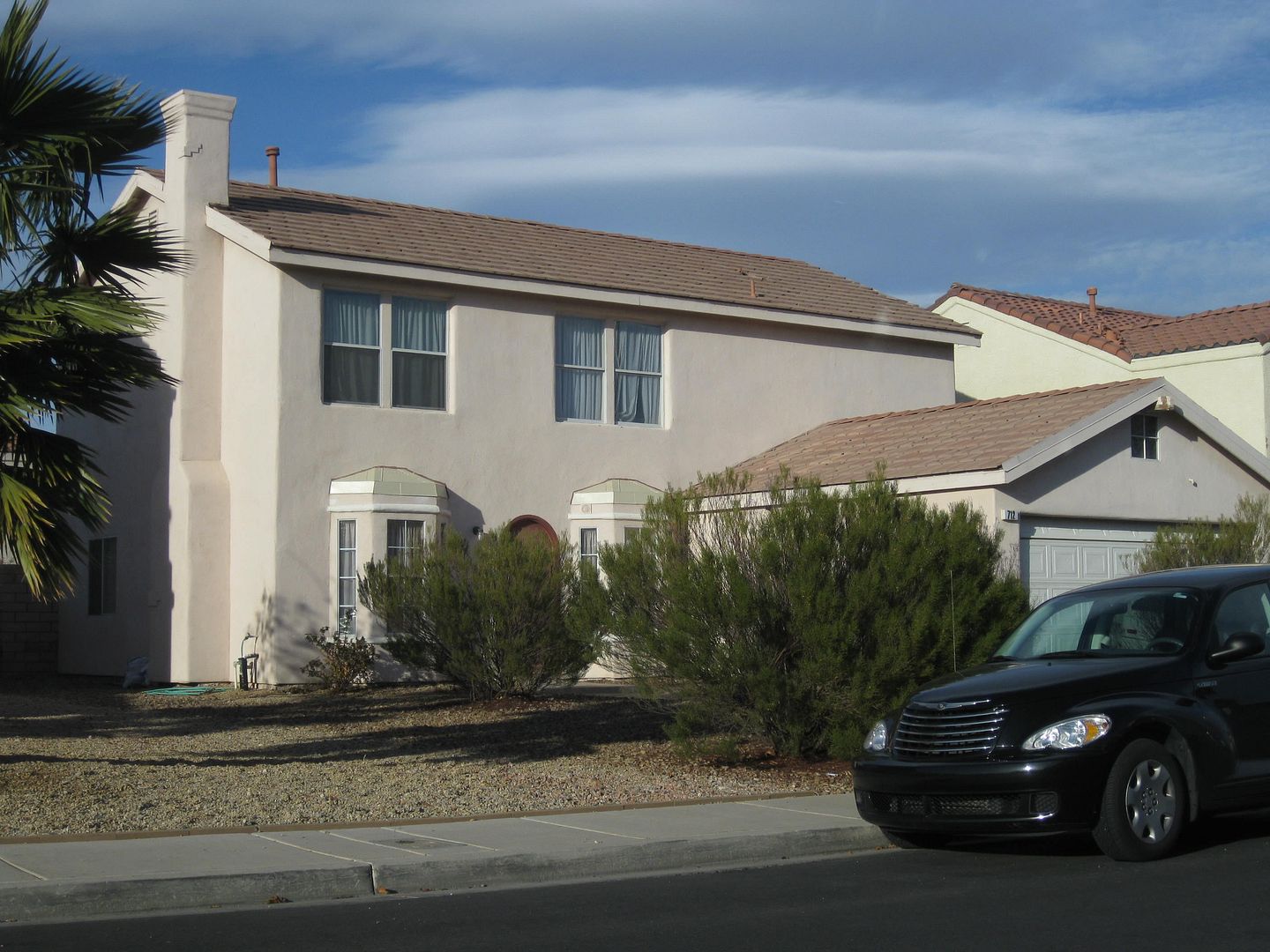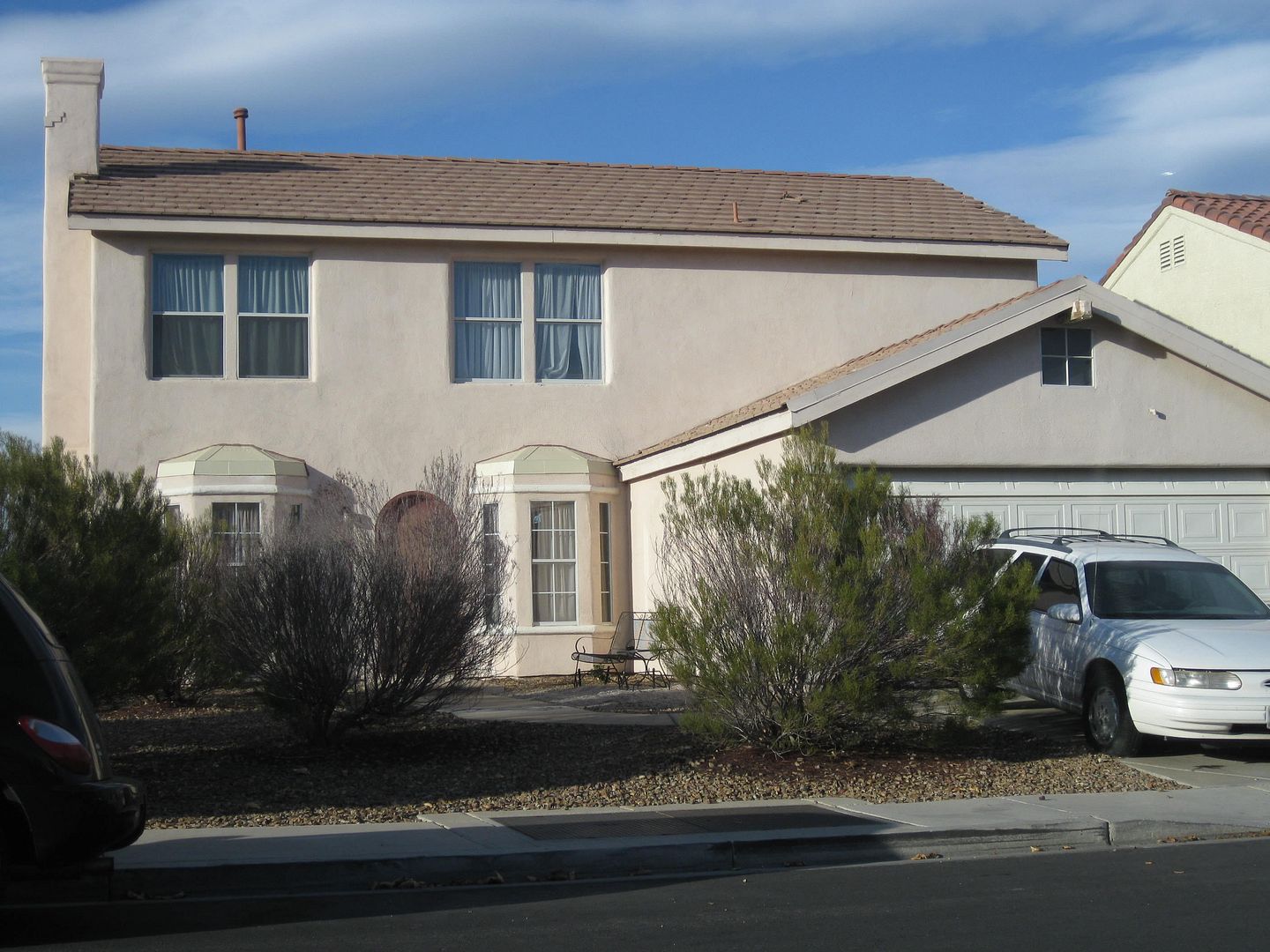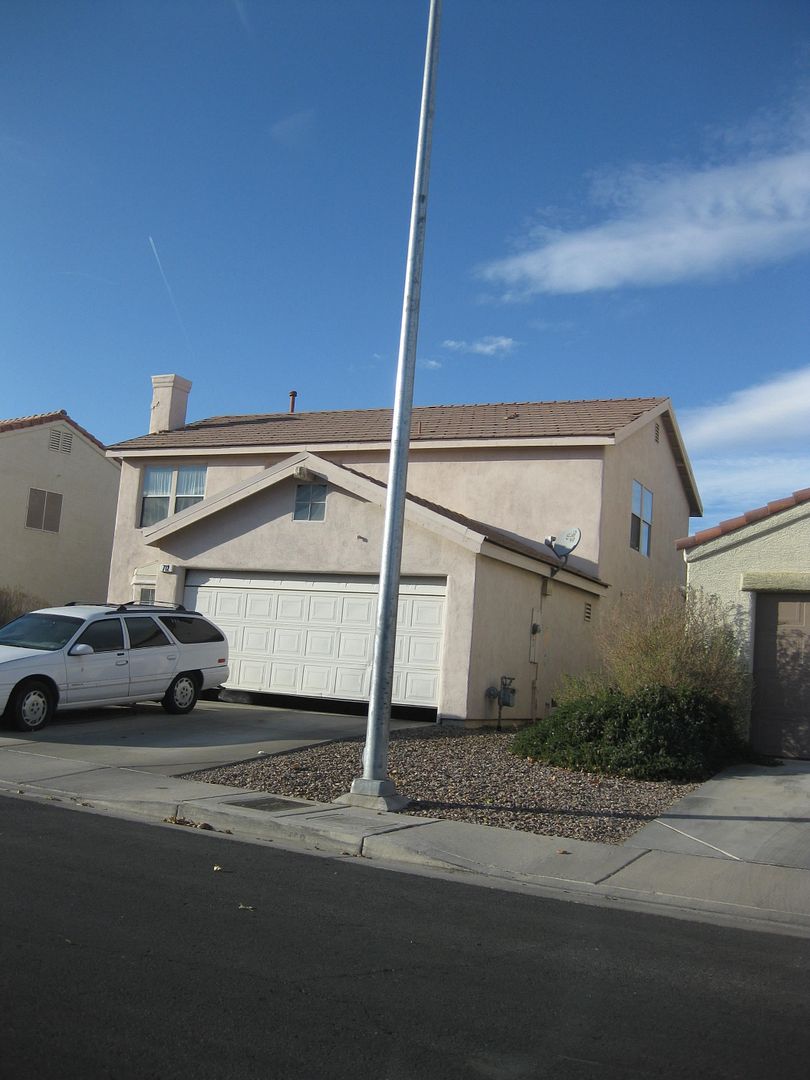 Posted by Phil in Los Angeles on Tue Dec 22, 2009 at 04:12 AM
---
Ok people this is how it went down. The winner was allowed to keep the house as it was for one yeAr ONLY! By LAW the house had to repainted and look normal after 1 year. They had no choice. The winner of the house actually to a cash prize instead but whoever got the house had to change it
Posted by MarkyG in Las vegas on Tue Jan 05, 2010 at 10:09 PM
---
Commenting is no longer available in this channel entry.
All text Copyright © 2014 by Alex Boese, except where otherwise indicated. All rights reserved.