Road Through The Snow
I seem to have a minor trend going with pictures of
cars and snow
. This picture here looks slightly suspicious to me because I can't imagine how the snow got so deep on either side of the road, or how they cleared it away so perfectly. But then, I live in Southern California, so I can't claim to be any kind of expert on snow.
Categories: Photos
Posted by Alex on Thu Apr 21, 2005
Comments (55)
More from the Hoax Museum Archives:
I saw this once in the Japanese News. Fuji News Network I think.
Posted by Deshi on Fri Apr 22, 2005 at 11:11 AM
---
I live near Mt. Baker, in Washington state. This happens almost every year on the road up to the ski area there. I was shocked to think that people really thought this could be a hoax. How funny.
Posted by 22aliens in Bellingham on Fri Apr 22, 2005 at 07:18 PM
---
Real... I'm sure topography probably helps with the illusion in some ways though...
Posted by Mark-N-Isa in Midwest USA on Fri Apr 22, 2005 at 07:19 PM
---
This is the photograph of the Tateyama Kurobe Alpine Route in middle of Japan.
The part called "Yuki no Otani" is located by this road.It is the place of this photograph.The height of the wall of snow this year is a 15m(50ft).
You can see this route's official site.
http://www.alpen-route.com/english/index.html
Have a nice day:-)
Posted by Shisyou in Middle of Japan on Sat Apr 23, 2005 at 12:24 PM
---
"...the valleys echo the shouts of joy."
Posted by Big Gary C in Dallas in Dallas, Texas on Sat Apr 23, 2005 at 03:51 PM
---
Professional
rotary
snowplow
with
top blower
or cutter attachment. No big deal. Just high tech - but not quick or easy work. Most states can only afford a few of these and contract/share them with National Parks. They are difficult to drive and dangerous to operate - particularly if there is any oncoming traffic (now forbidden by code, which makes it difficult to see one in operation). The new units have magnetic sensing to prevent clipping the highway markers (radar is being developed). There are areas that get 50 feet of snow every year that have to open for Memorial weekend (when snowpack is at its deepest) for economic reasons. If you drive Colorado's Million Dollar Highway (Ouray to Silverton) you'll see monuments to the snowplowers killed in the line of duty.
Posted by jackson helmut on Mon Apr 25, 2005 at 10:39 PM
---
Looks fake to me, the fence posts arent casting any shadow so that seems to indicate the whole picture has been doctored.
Posted by MCW in Wilmington NC on Thu Apr 28, 2005 at 07:42 AM
---
it is real, we drove through a similar area in washington state. amazing
Posted by terri sall in louisiana on Fri Apr 29, 2005 at 11:14 AM
---
Thats easily a hoax. The shadow wouldn't be there with a mound that high.
Posted by Keicanad on Sun May 01, 2005 at 06:57 PM
---
Hmm, maybe someone is making lots of fakes out there, or it is, as so many have said, possible.
Check out this shot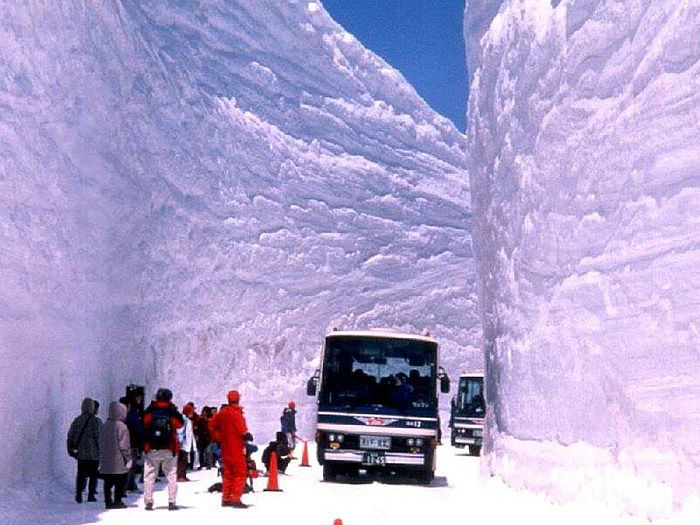 Posted by Bruce on Tue May 03, 2005 at 11:24 AM
---
While on holidays in Swoitserland, its not uncommon to see this kind of pics. During winter this much snow does fall on the different passes, (Sustenpass, Furkapass etc) and indeed they do remove as little snow as needed to get the pass open again in the spring. I`ve seen machines busy removing it. It looks like a big "drill" that "eats" the snow and blows it away to the side. They get that high by creating a sort of stairs system, then go up with the machines and start at the top eating their way lower , layer by layer. If you look on webshots.com you`ll find more pics like this. The Bus is clean because it`s a tourist bus using the road as a simple way to get from A (at one side of the mountain) to B (on the other side of the mountain) Why would it have snow if where it came from it wasn`t snowing? And when its spring, the tourists walking at the sidewalk will not be dressed like its middle of winter because it`ll be around 15-20C
Posted by Chrissy in Netherlands on Thu May 05, 2005 at 01:56 AM
---
And the shadows story is bs. as you can see by the shortness of the ppls shadows, the sun is high in the sky, probably almost directly over them. Look at the shadow of the bus and you`ll see what I mean.
Posted by Chrissy in Netherlands on Thu May 05, 2005 at 02:01 AM
---
This is Tateyama Ohtani in northern Japan. The ice wall can get much higher in the winter. This is perhaps a summer shot (yes, even in summer there's snow there). The location is 2,390m above sea level.
Posted by Steven in Japan on Fri Jun 10, 2005 at 05:04 PM
---
Comon, the snow may be real but the pictures is fake. I agree with that snow can get that high but look at the way the people are dressed and that there is now snow melt around. When there are piles of snow and the temperature is above freezing, there is always water run off and in this picture there is none. And the snow in this temperature becomes unstable and could cave in on the bus and people. This picture is NOT REAL.
Posted by Mr. Snowflake in Hilton, NY on Mon Jun 20, 2005 at 11:13 AM
---
i have seen roads just like this several times in the middle of summer (4th of july snowboarding trips.) nearly year round examples looking exacly like the image shown can be found simply by visiting bunny flats, @ the 10,000 foot mark on mt. shasta, norcal, by visiting the trail head to the summit of mt. lassen, or by visiting hart lake in the castle craigs wilderness during spring... pretty positive it would be easier to snap a shot rather than hoax it...
Posted by Robert in northern california on Sun Aug 07, 2005 at 05:48 PM
---
definitely japan
Posted by estiej on Mon Aug 22, 2005 at 09:17 PM
---
This is real. It is northern Japan and the clearing takes some time. When they open the road (same time every year), it is a big event and makes it on the news. This picture actually shows a lower than normal snow wall. It is usually about 20% higher.
Posted by Greg on Fri Oct 14, 2005 at 01:40 AM
---
The picture seems real to me. I'm staying in Niigata Japan and yes in the countryside the snow is pushed aside and it looks exactly like in the photo after 7 weeks of heavy snow except that it's slightly lower so I believe that picture is not modified.
Posted by nectar in Niigata, Japan on Sat Jan 14, 2006 at 01:19 AM
---
This picture is real enough, the roadmarks are norwegian and we have several mountainroads where it's common with this amount of snow, and for the ones interessted in the snowshuffle technology I can enlighten you with the fact that snowblower equipment on large trucks want have any problem trowing the snow much higher than this..
we have at least 5 mountainroads that this picture could be taken:
Sognefjell
Haukelifjell
Saltfjellet
Suleskaret fjellovergang
finse fjellovergang
some eksamples:
Posted by Arild Lund in Norway on Fri Feb 24, 2006 at 10:04 AM
---
Found it
Posted by Kerry on Sat Dec 30, 2006 at 11:40 AM
---
Real--I lived up in Hokkaido for 4 years, and the roads up to the hot spring resorts get like that towards the end of the season. They obviously put a lot of effort into maintaining them (it's a bit of a tourist draw).

J
Posted by Jeff in Geneva on Wed Mar 12, 2008 at 02:19 AM
---
The road is too clean and the "walls" too vertical...it's a fake...
Posted by MagicFaireDust on Wed Mar 12, 2008 at 02:35 AM
---
I was driving over a mountain in Montana last June, and I saw a snowbank nearly that tall, but it was just on one side of the road. There were small sticks sticking thru the snow that marked the edge of the road.
Posted by Esther in AZ on Tue Apr 01, 2008 at 03:53 PM
---
It's real--The Japan Times published a similar picture on 18 April 2008 when it announced the opening of the Tateyama-Kurobe Alpen Route.
Posted by Jeff on Thu Apr 17, 2008 at 11:58 PM
---
These are real. I drove through them in Alaska many times! The snow plows have long pipes on the side that blows the snow upward. There aren't exactly dumping grounds for the trucks to take the snow everywhere in AK, so it gets stores on the side. It make a nice mess when it starts to melt. It's real.
Posted by sheryl on Fri May 27, 2011 at 02:02 AM
---
Commenting is no longer available in this channel entry.
Get MOH Blog Posts by Email