Hoaxes Throughout History
The Legend of Midgetville
For Christmas I received a great book,
Weird U.S.: Your Travel Guide to America's Local Legends and Best Kept Secrets
by Mark Moran and Mark Sceurman. Immediately I flipped through it to find anything about San Diego, and soon came across the legend of Midgetville.
Midgetville refers to the legend of a town consisting of scaled-down houses built for little people. Midgetville is said to exist in various places throughout America. As Moran and Sceurman note, the most credible rumor locates such a town in
Jefferson Township, New Jersey
, on the former estate of circus mogul Alfred T. Ringling. There really is a collection of small-sized houses there that could conceivably have once been home to a colony of midgets. However, another
very persistent legend
locates a Midgetville in San Diego.
Moran and Sceurman don't go into much detail about the San Diego Midgetville, but I realized that I had heard this legend before (my wife had also heard it). This is how it goes: back in the 1930s a group of little people who had made a lot of money in Hollywood appearing in movies such as
The Wizard of Oz
supposedly came down to San Diego and built a collection of miniature houses on Mt. Soledad where they could live in comfort together. But of course, nobody seems to know exactly where on Mt. Soledad this group of small houses was or is, though everybody has heard of a "friend of a friend" who once accidentally found the houses (though this FOAF can never remember how to get back there).
Determined to find the houses, I did a google search and came across
an article from 2003
written by Kenneth Smith for the
Daily Aztec
detailing his own efforts to track down San Diego's fabled 'Munchkin Houses'. After many false starts, he finally discovered that they were most probably "a group of four cottages on Hillside Drive in La Jolla... built by
famed architect Cliff May
." Although no midgets or little people were ever known to live in these houses, Smith says that, "The houses do indeed have smallish features, accentuated by an optical illusion. The steep road that passes them makes them seem even smaller than they actually are." Unfortunately only one of the four cottages remains standing, but Smith provides directions to find it: "take Hillside Drive from Torrey Pines Road. The house will be on your left-hand side. Look for the crazy midget handwriting." He also mentions that if you peek through the window (the house is unoccupied) you'll see "cobblestone-like tiled floors and a little round fireplace."
Of course, I had to see this for myself, even if no colony of Wizard-of-Oz midgets had ever lived there. So on New Year's Day I convinced my wife to accompany me on a search for the Munchkin House. The results were mixed. It was no problem finding Hillside Drive, but as it turns out Hillside Drive is fairly long. We were driving up and down it (as a line of cars formed behind us) wondering 'exactly which house on the left did he mean.' None of the houses leaps out at you and screams 'Munchkin House.' But finally we settled on one house that we figured must be it: Seventy-Four Seventy-Seven Hillside Drive. It had
small windows and a small door
. Plus, the address written beside the door looked a bit like
'crazy midget handwriting'
(though I think Smith was joking about this). Ignoring the
'No Trespassing' sign
(even though part of the legend of Midgetville is that the midgets who live there fiercely defend their land from the Bigs), I peeked through the window and saw the
cobblestone-like tiled floors and a little round fireplace
. So I think I found the Munchkin House, though I'm not 100% sure. It's certainly not anything that would catch your attention if you weren't specifically looking for it since it's really not that small, which made the trip a bit disappointing. But the weird thing is, I've already forgotten how to get back there.
This is great. I never knew that there really was a "Midgetville". I did see a little house in Texas when I was visiting my Aunt last year. The guy that lived there was not a mean fearce guy though. He looked like that guy from "James Bond The man with a Golden Gun". I just wanted to say "A plane a plane, Look at the plane boss!" But I didn't. That's it. End of story.
Posted by Joe on Fri Nov 11, 2005 at 02:01 PM
---
Hey if any of you know a midget town near Long Beach or Downey let me know. My email is:
.(JavaScript must be enabled to view this email address)
Posted by BILL SONG in LONG BEACH on Fri Nov 11, 2005 at 09:07 PM
---
Every post that I read doesnt dive that correct adress or adress. This is some hoax
Posted by BILL SONG in LONG BEACH on Fri Nov 11, 2005 at 09:19 PM
---
HA HA HA. We have a hobbit place like that. They changed it because of the movie lord of the rings, but they call it the shire. If you try to enter it they do chase you and they throw things. It's very funny. AND sad.. But funny. The chase with shovels, then they call the cops.
I wanted to put these pocket pals in my pocket.

They are ruthless!
Posted by Carter S on Fri Nov 11, 2005 at 10:05 PM
---
correction...Haunchyville midgits chase you with torches. & it's in muskego
Posted by adriana in Milwaukee on Fri Jan 20, 2006 at 12:01 PM
---
can anyone give me the directions to the one in long beach?if you can email me.
Posted by jeannette in california on Wed Jan 25, 2006 at 06:37 PM
---
yes, i too have heard of this story. It would be located on 'mystic drive' in Muskego, Wisconsin. It is supposeidly down a chained off dirt road, out to a farm field. There are supposed to be miniature stop signs, doors, houses, fences, and midgets, complete with tourches and pitchforks. There is a full size man also, who guards them. You also get stuck with a hefty fine for tresspassing on the private property. I have heard this several times around school, and nothing really seems to be consistant (plus I also have Wierd Wisconsin)
I have also searched all over mystic drive with google earth, and cannot see ANY sign of even a single shed in a field, let alone a whole village (unless under trees, but i doubt it)
so, i would be willing to put my head on it that it doesnt exist, but it's jsut supposed to keep all of us entertained, thus mostly being circulated during hig-school years.
Oh, also, here is a few pictures of the Texas World Fair, complete with midgets and village, via google images...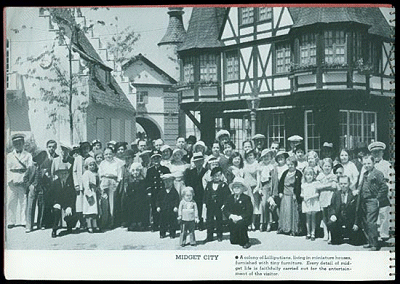 all in fun
Posted by shotgun_mario in menomonee falls wisconsin on Thu Mar 02, 2006 at 12:13 AM
---
I live in Delaware, near the PA border. I have been hearing Friend of a friend stories about a midget town in what we refer to as the "Valley" since high school. This is an area of back roads that is pretty wooded. Apparently the town is called Zoobieville. I have heard heavy testimonies of how Thier friend was "definitely" there.
One story was of someone who was driving off road and was confronted by a group of midgets who started throwing apples or crabapples at his car. "He has the dents to prove it." So I was told.
Another was that they even have a bar just for them in the town and my friend's friend was going to have her bachelorette party there. but for some reason they didn't. Also, for some reason no one I know knows how to get there.
There is also a Satan house in the area where the trees grow away from the house, and a truck will chase you and shot at you if you go near it. I have seen this house, and the trees do grow away from it, but I imagine its because they are on a small steep hill, and possibly grow towards the sun. (I'm no scientist) But no one chased me.
Posted by dan in delaware on Fri Mar 10, 2006 at 04:10 PM
---
where is this place located?
Posted by colleen in la jolla on Tue Apr 04, 2006 at 02:30 PM
---
ft worths midget village is on hidden ln at the end . off alta off crestline it is between two pillars on the left handside.it is hiden in the woods of the west fork of the trinity river. people do not want you to find it either. it's a nice area
Posted by amanda in aledo on Sat Apr 22, 2006 at 06:48 PM
---
i'm sorry i mean't hidden lane not road in westover hills off camp bowie blvd follow it to crestline and then the above directions
Posted by amanda in aledo on Sat Apr 22, 2006 at 06:52 PM
---
the "midgetville" in vienna, virginia is a grouping of 7 small houses, nestled amongst a woodsy area. while the houses are smaller than normal, the residents are all normal-sized non-midgets who don't really appreciate hordes of high school kids every weekend driving around their community throwing eggs and shouting obsceneties and looking for "midgets".

the community is going to be torn down in a month to make way for more overpriced suburban mcmansions.
Posted by pezpunk in northern virginia on Wed May 03, 2006 at 02:05 PM
---
I heard there is a midgetville in Oakdale, NY (Long Island). Has anyone seen it or know where it is?
Thanks,
Liz
Posted by Liz in Long Island, NY on Sun May 14, 2006 at 07:22 PM
---
I have been to midgetville in mukwanago. it is down the chained off dirt road but there are just normal houses from the outside.(never been in them)theres also more than 1 normal sized guy and they suround the place they will chase you with dogs if you got the guts to get out of your car otherwise they have
trucks they will bring and chase you with (the midgets have a big blue truck) and call the cops. they also have a bar called the hunters nest they shut off all the lites when we pulled into the parking lot.
Posted by wingsgoalie in waukesha, wisconsin on Tue May 16, 2006 at 10:02 PM
---
There is one in Anaheim CA. It's about 8 houses in downtown Anaheim. They are all short and have short doors and windows. I have seen many midgets there. It's off a road called Caille De Estrella. It's really cool. Me and my friends went there 2 times. Go check it out!!!
Posted by david in Anaheim, CA on Fri May 19, 2006 at 12:01 AM
---
I was just at the one in Oakdale, it is down by Dowling College. If you make the right off of Main St right at Dowling, and take the right fork when the road forks, you'll come to it...
Posted by Rene in Islip, NY on Mon May 29, 2006 at 07:52 PM
---
so have you heard of the one in jefferson wisconsin, about the guard shooting big people
Posted by mini burt in wisconsin on Fri Jun 02, 2006 at 02:49 PM
---
No were is it in Jefferson?
Posted by wingsgoalie in Waukesha on Sat Jun 10, 2006 at 08:21 PM
---
Dan - I live in Delaware too, and I've been to the midget town in the Valley! It was years ago, with a friend - just a little group of tiny houses off of the main road. Oddly enough - I don't remember where it was. But, I really was there!
Posted by Matt in delaware on Thu Jul 20, 2006 at 06:28 PM
---
there is also a midgetville in virginia. developers are trying to tear the place down. check out
http://www.savemidgetville.com
my freind used to live there and i visited the place a couple years ago. it is way too cool to tear down, hopefully they stop the greedy bastards from destroying it.
Posted by mike norgaard in mazomanie, wi on Tue Jul 25, 2006 at 08:41 AM
---
Okay everyone in Long Beach. I live on La Linda drive. There are no midget houses and no midgets on the drive. Never has been in the history of the drive which you can find out about visiting the Los Cerritos Rancho to learn more about the Bixby mansion and family which owned the drive originally.

We are all a bunch of normal people, nobody under five feet!
Posted by Theresa in Long Beach, CA on Wed Aug 30, 2006 at 04:59 PM
---
theres no street "calle de estrella" in anaheim
Posted by eric in anaheim, ca on Sat Sep 02, 2006 at 02:30 AM
---
Matt and Dan i live in delaware right before the PA border and i kno exactly where midgetville is and if you guys want directions i can give them to you! my e-mail is
.(JavaScript must be enabled to view this email address)
Posted by mike in Delaware on Fri Sep 15, 2006 at 11:26 PM
---
The subject came up in class last night of a midgetvillle in Upland or Claremont Ca. Anyone know about it?
Posted by Grandma Alice in Fontana, CA on Mon Sep 18, 2006 at 04:26 PM
---
I was just recently back at the one in muskego or mukwanago the one on mystic and everyone has these brand new bright as all hell lights so we were hestinent but we went down anyways and sure enugh half way down the road we here a car door slam and sumeone pulls out behinds us we wipped a shit so fast and got out of there fast good thing we new our way around.

and theres probly a more then few in Cali i dont no anything about em tho.
Posted by Wings goalie in Waukesha, WI on Mon Sep 18, 2006 at 10:45 PM
---
where is midegtville located?
Posted by BeBa in New jersey on Tue Oct 03, 2006 at 10:13 AM
---
midget town in long beach is my friends and mine's second home. a new gate was just built to keep people out from driving around.

We have yet to encounter an actual midget.. but the rampantly tiny doorknobs and gates suggest the truth.

also in this general area, 'the nightmare on elm street' and 'donnie darko' houses are located.
Egore's alley anyone?
Posted by Dillon Dingwell in Huntington Beach, CA on Mon Oct 09, 2006 at 09:01 PM
---
ok, for all you that SWEAR UP AND DOWN that there is a midget town in long beach, you are wrong. well no, there IS a midget town, but there are no midgets there. there are 3 likely places people call midget town. 1 is at the end of country club drive, but if you want to be a pesky annoyance and drive down that way at night, there are 9 times out of 10 cops waiting at the end. another is a gated community about 2 miles away, i had a friend that lived in this gated community (the street is called la linda dr.), and no, there were/are no midgets there either. the third is yet ANOTHER gated community in long beach (all three are in less than a 2 mile radius in the bixby knolls area of long beach), and sad to break the news, this too is not a midget town. i forget the street name, but i grew up in this neighborhood. all three of these areas have huge doors, but the doorknobs are pretty low. the bixby knolls/virginia country club area of long beach is very very upscale, i mean come on, COUNTRY CLUB should give that away. that's why all the communities are gated. if you know about midget town, then you more then likely know about EEGORE'S ALLEY as well, but that's for a different time. gotta love the wonderful long beach folklore.
Posted by joe in bixby knolls on Thu Oct 19, 2006 at 04:52 PM
---
what is eegores alley? i heard of the myth of midgetville in long beach, but never of any eegores alley?
Posted by EE in south bay, ca on Fri Oct 27, 2006 at 03:15 AM
---
All right.
in wisconsin.
there is a place called haunchyville in Muskego wisconsin on Mystic Drive.
a bunch of midgets live down there.
scary as hell let me tell.
Posted by Zach in Waukesha Wisconsin on Mon Nov 13, 2006 at 05:12 PM
---
All text Copyright © 2014 by Alex Boese, except where otherwise indicated. All rights reserved.